Origin
Origin of EDOSAN
In about 1800, our ancestor moved to Osaka from Nara, started a business.
The name of EDOSAN originated from place name "Edobori sanchome", in Osaka.
They moved to Nara in 1907 and founded Japanese restaurant at a current place.


We have welcomed many writers, artists, movie star, Kabuki actor,
Naoya Shiga(novelist),Leonard Foujita(artist), Issei Miyake(designer) and so on.

At that time, many writers and artists lived in this neighborhood,
Edosan was the place of the interchange for the novelist and the painter.
The picture, the essay, and the novel which recorded that time is left a lot now.

Currently it is used for many people as Japanese inn priding itself on its cuisine.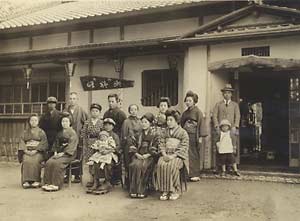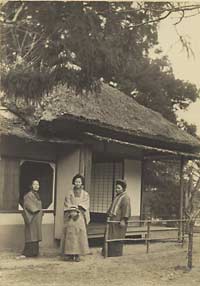 about the name of the guest room
Most of guest room names become the name of musical instrument.
In those days when there was not a telephone, our guest sounded musical accompaniment with instruments (musical instrument) and called a room attendant.

In order to understand which guest requested us, there is the different musical instrument for each room, which became the current room name as it is.

The name of the instrument is "Taiko(drum)" "Dora(gong)" "Gyoku(fish-shaped wooden drum)" and so on.

Please look for your room where the the musical instrument is.