ACCESS
【From KINTETSU-NARA Sta.】 by walk 15min. / taxi 5min.
【From JR NARA Sta.】 by walk 25min. / taxi 10min.
For guests traveling by train
The neighborhood station of EDOSAN is Kintetsu Nara Station.







Train --- Kintetsu Railway / West Japan Railway (JR)
Nara Station interior map --- KINTETSU-NARA Sta.
---
For guests traveling by airplane

Airport Limousine Bus --- Osaka (itami) Airport / Kansai Int'l Airport
About Airport --- Osaka International Airport / Kansai International Airport
---
Japanese guidance
Please show this picture to a taxi driver, when he(she) does not know EDOSAN.
It is written in Japanese to guide you to EDOSAN.
Reception desk of Edosan

There is the stone-steps in the right side (the south side) of
"Ichi no torii (first torii gate of Kasuga shrine)' .
You will see a detached room of EDOSAN when you climb there.

There is the building with the signboard of "Edosan"
in the left front when you just go straight.
There is a reception desk.

There is EDOSAN in Nara-koen Park,
and so there is not indication of the guidance on the way.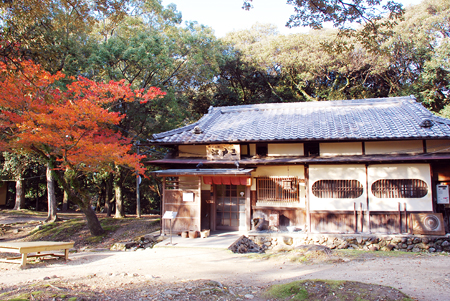 ---